ABOUT MARILYN HYLAND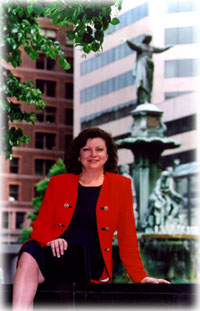 Marilyn Hyland has a Bachelors Degree in economic geography from the University of Cincinnati. While attending U.C., she was named to the Ivy Chain, an honorary organization for outstanding junior women. After graduating from U.C., Ms. Hyland continued her Master's work at Clark University in Worcester, Massachusetts, focusing on economic geography and the psychology of perception.
In 1972, Ms. Hyland went to work for Kenner Products (now Hasbro, Inc.) as the toymaker's Director of Marketing Research. In that capacity, she made corporate history as Kenner's first female Director. While at Kenner, Ms. Hyland was instrumental in helping to introduce a new doll which quickly became the biggest-selling product in the company's history at that time. As a result of her talent and hard work, Ms. Hyland was named one of the Outstanding Young Women of America.
In 1978, Ms. Hyland founded the Marilyn Hyland Agency. Over the years, the agency has worked with numerous communities, railroads, and other companies on a variety of issues.
Besides overseeing her business activities, Ms. Hyland has long served in a voluntary capacity with many organizations. In the 1980's, she chaired the Cincinnati Committee on Alternative Work Schedules which spent three years working on ways to implement more family-friendly workplace practices. Her involvement influenced many leading companies in Greater Cincinnati to offer such choices as flex-time, employer-involved child care, and job-sharing.
Ms. Hyland served for more than a decade as a member of the Hamilton County Democratic Steering Committee and the Democratic Judicial Selection Committee. She also chaired a bipartisan political action group known as Independent Voters of Ohio from 1977-81.
From 1984-90, Ms. Hyland was a board member of the Clifton Town Meeting, a group dedicated to maintaining and improving the quality of life in Cincinnati's Clifton neighborhood. She currently serves on the board of the Mallory Center, which coordinates services for citizens of Cincinnati's West End neighborhood.
Ms. Hyland attends Indian Hill Church in the Cincinnati suburb of Indian Hill. She is a member of the Church and Community Commission, as well as the Stewardship Commission. She is married and is the mother of four children.